NASCAR Themed Event with Imagine Dragons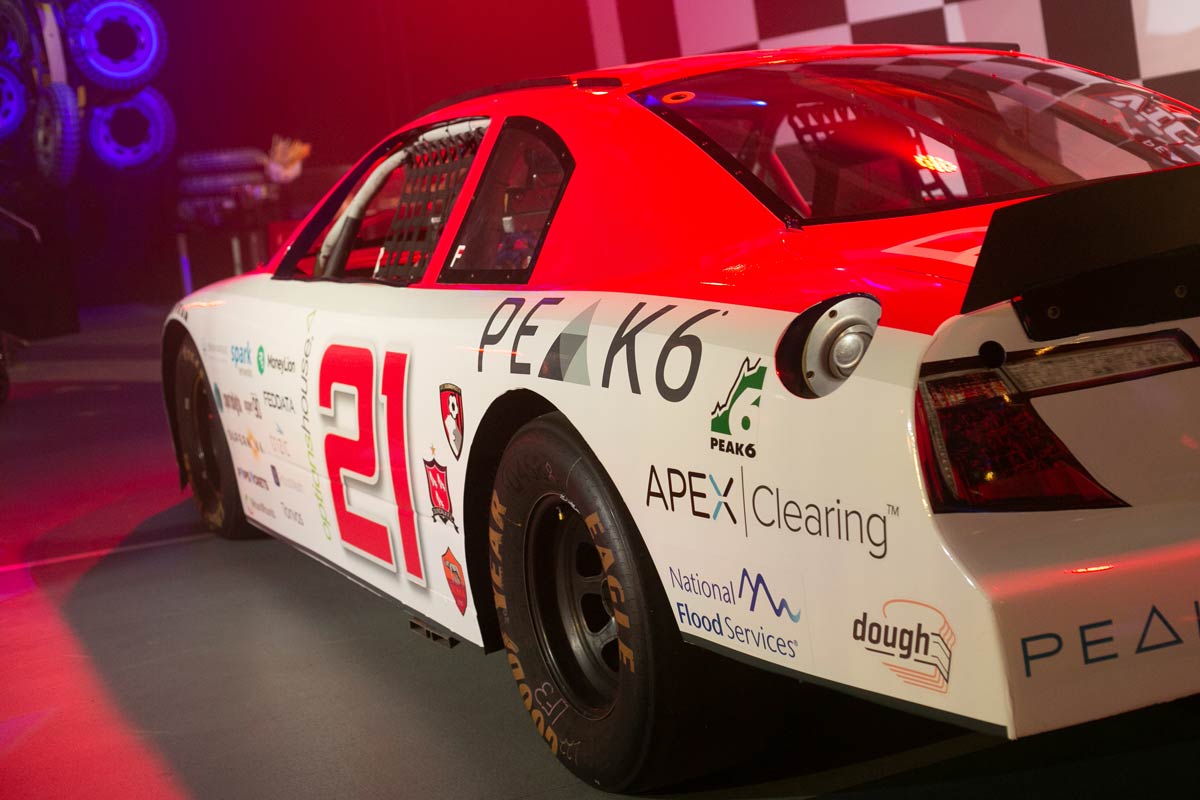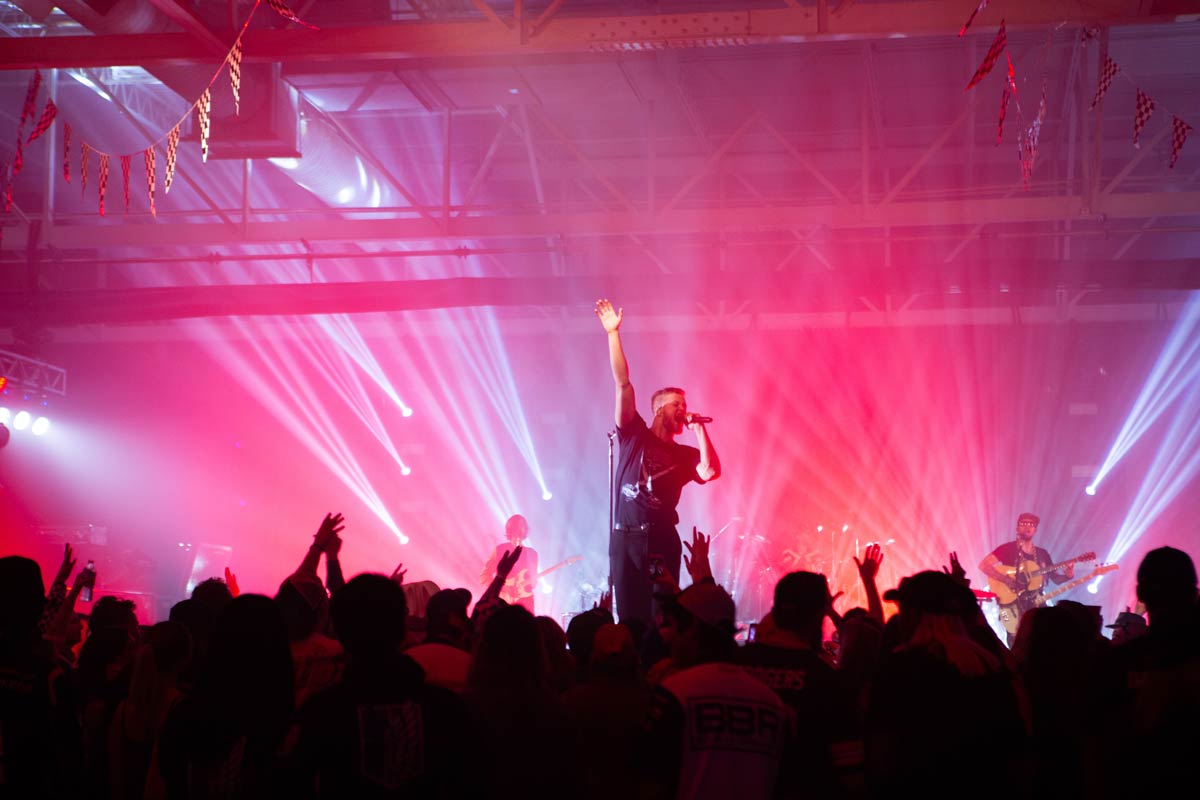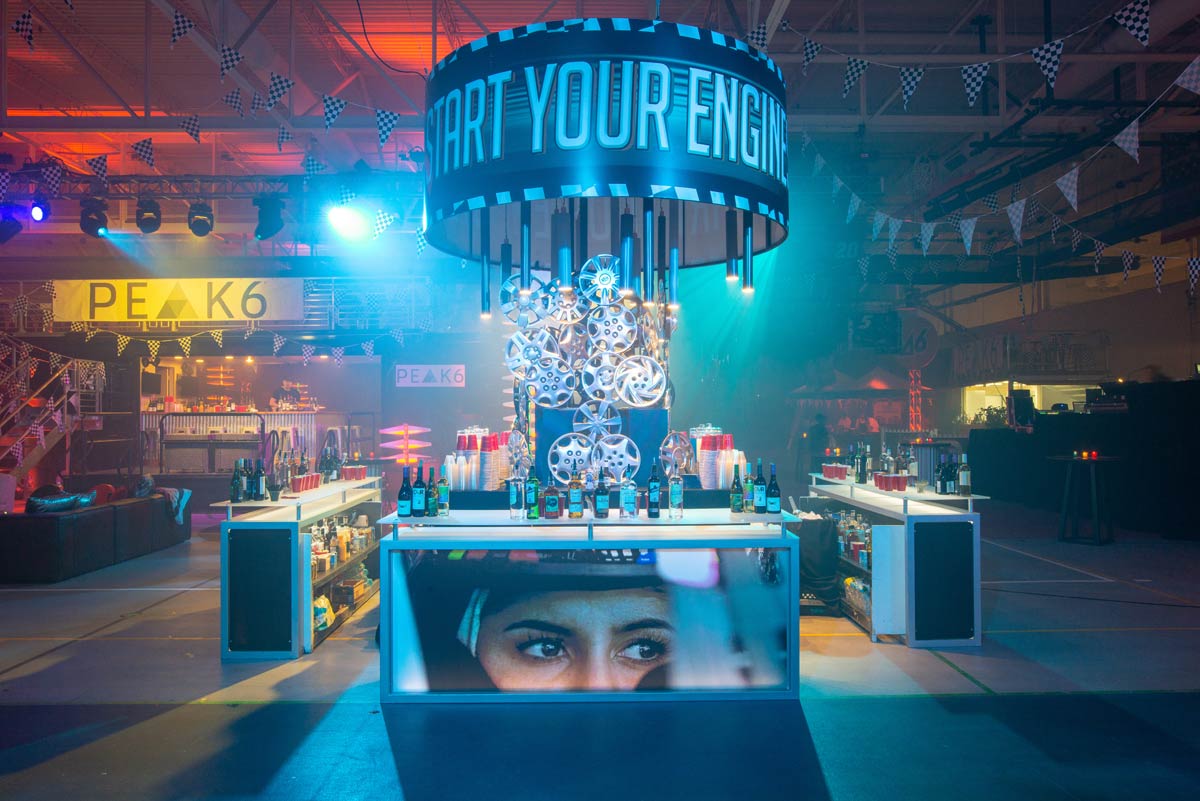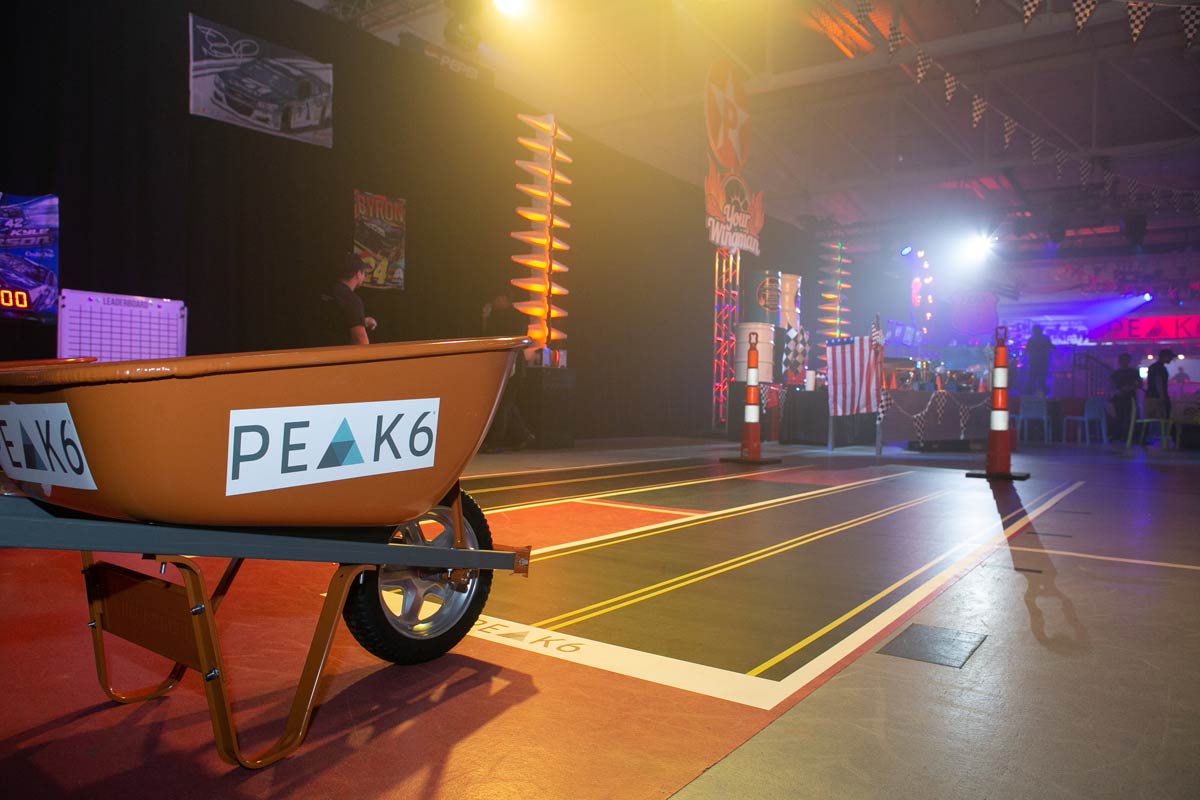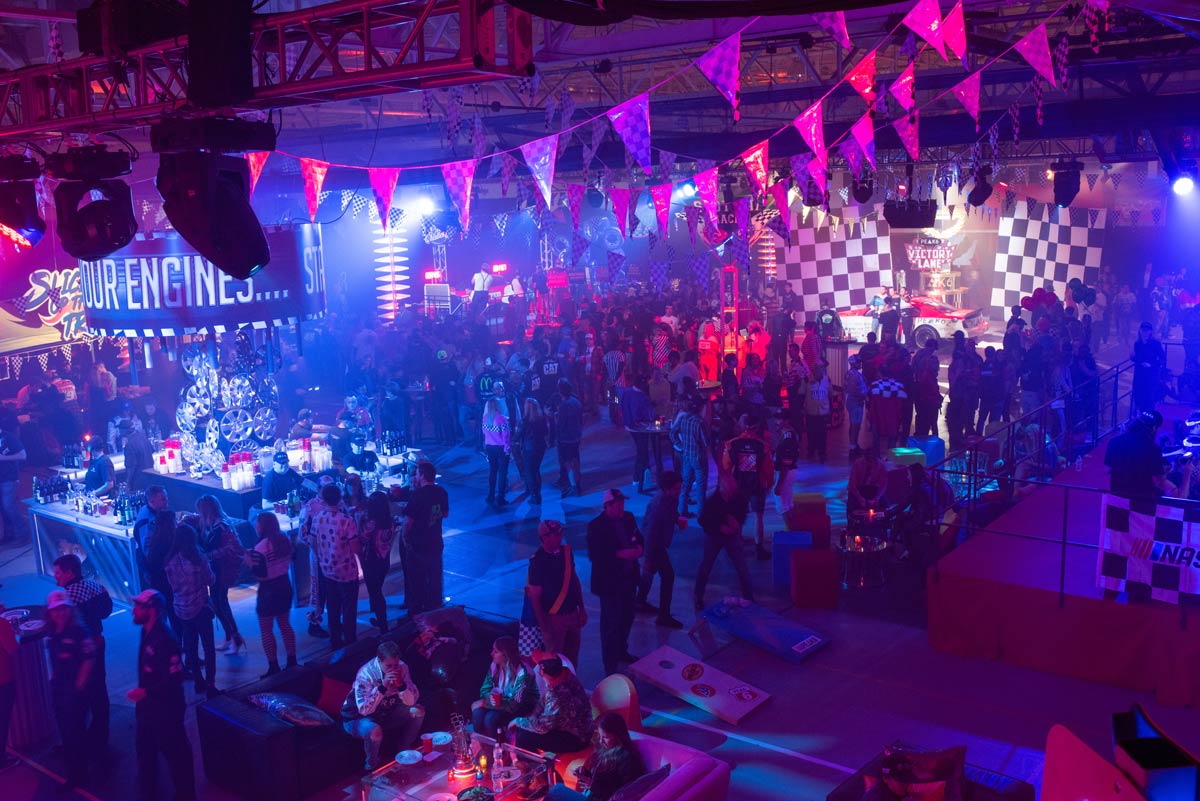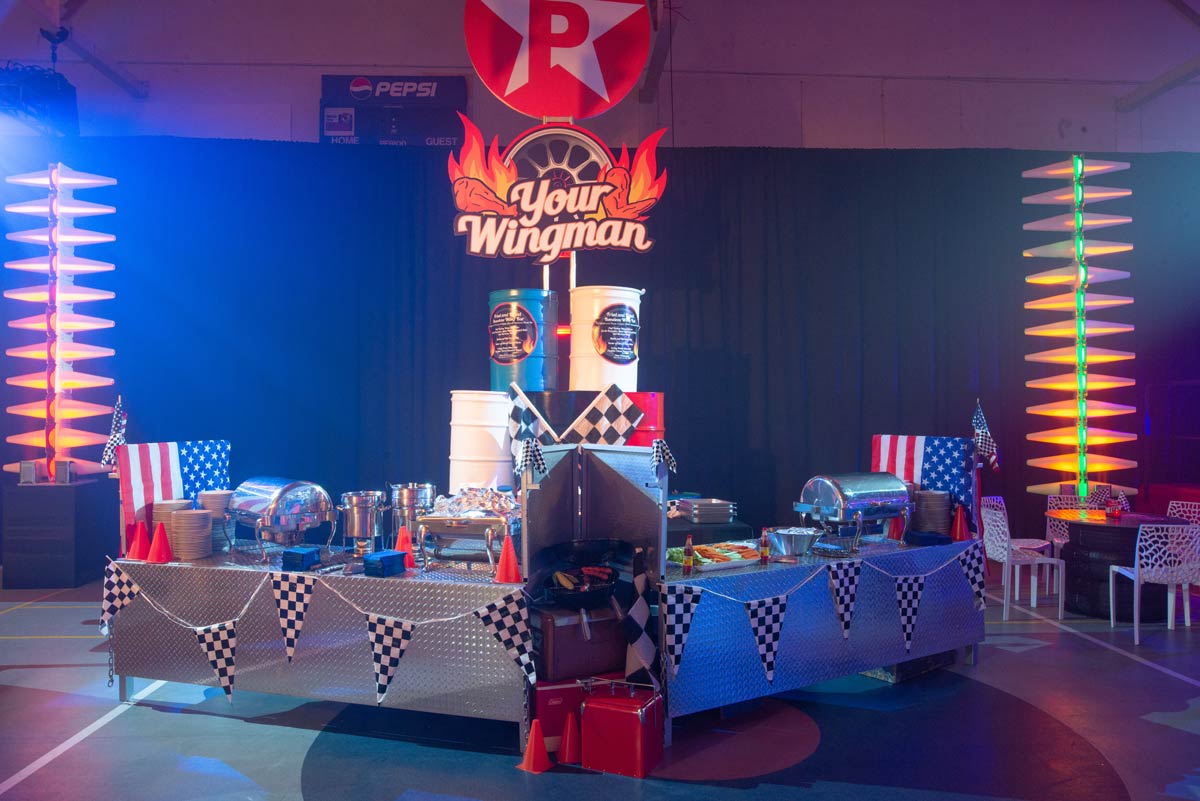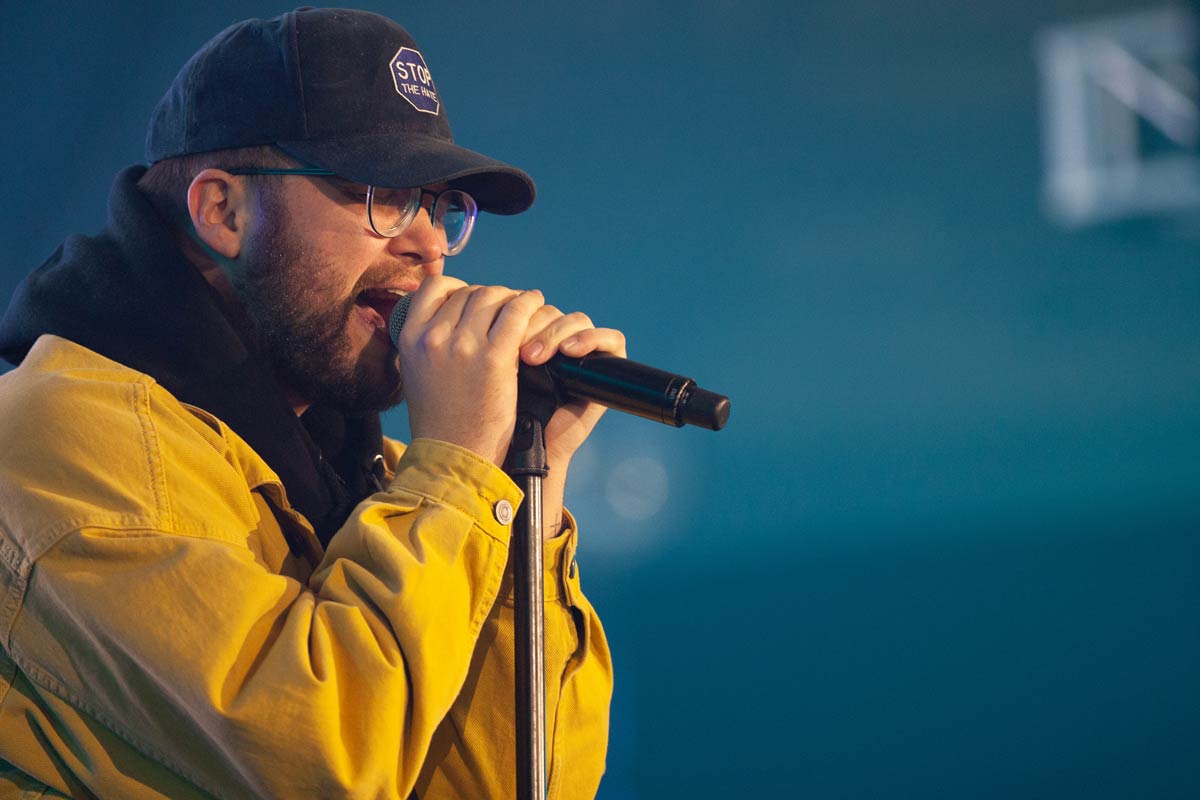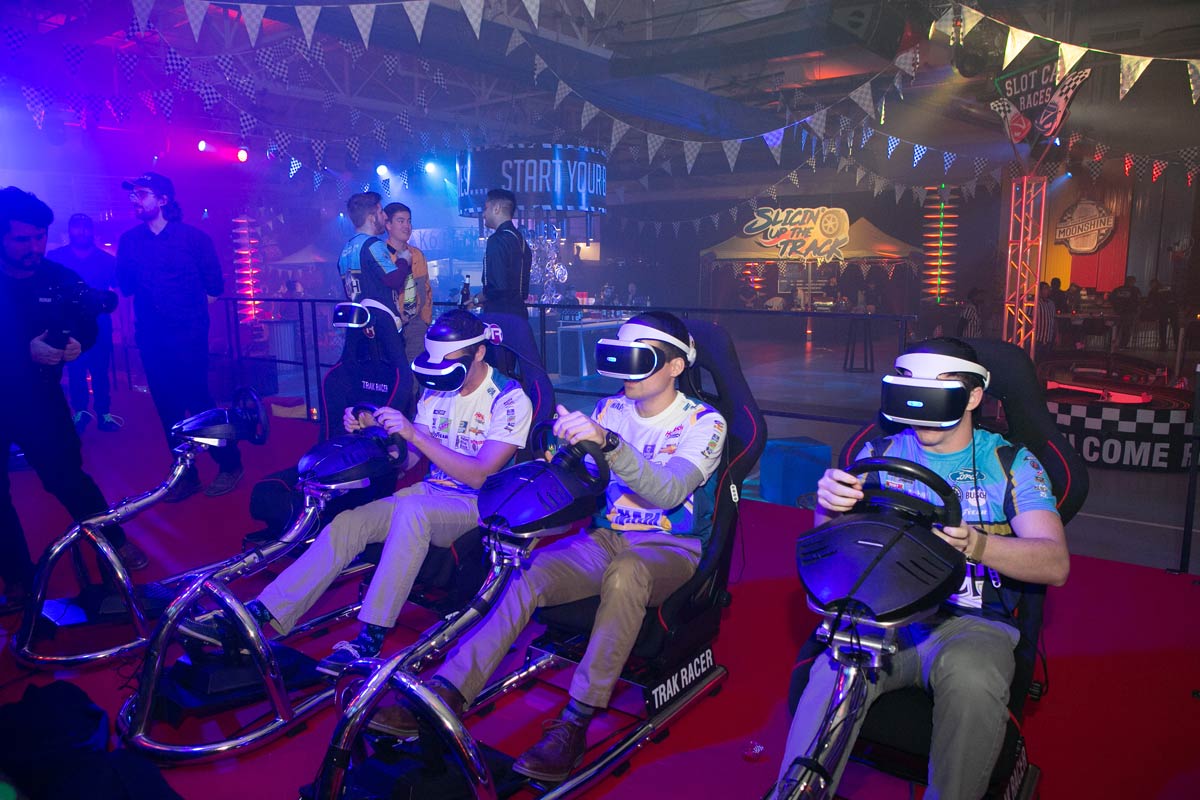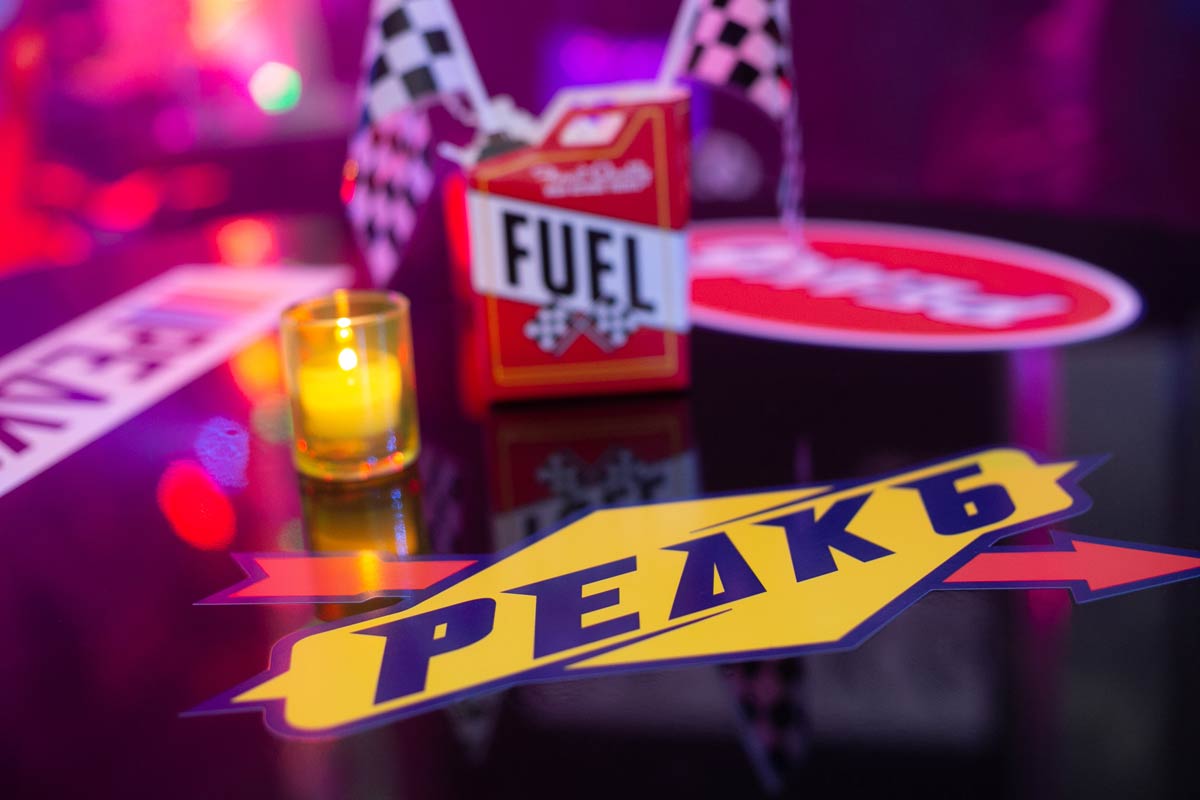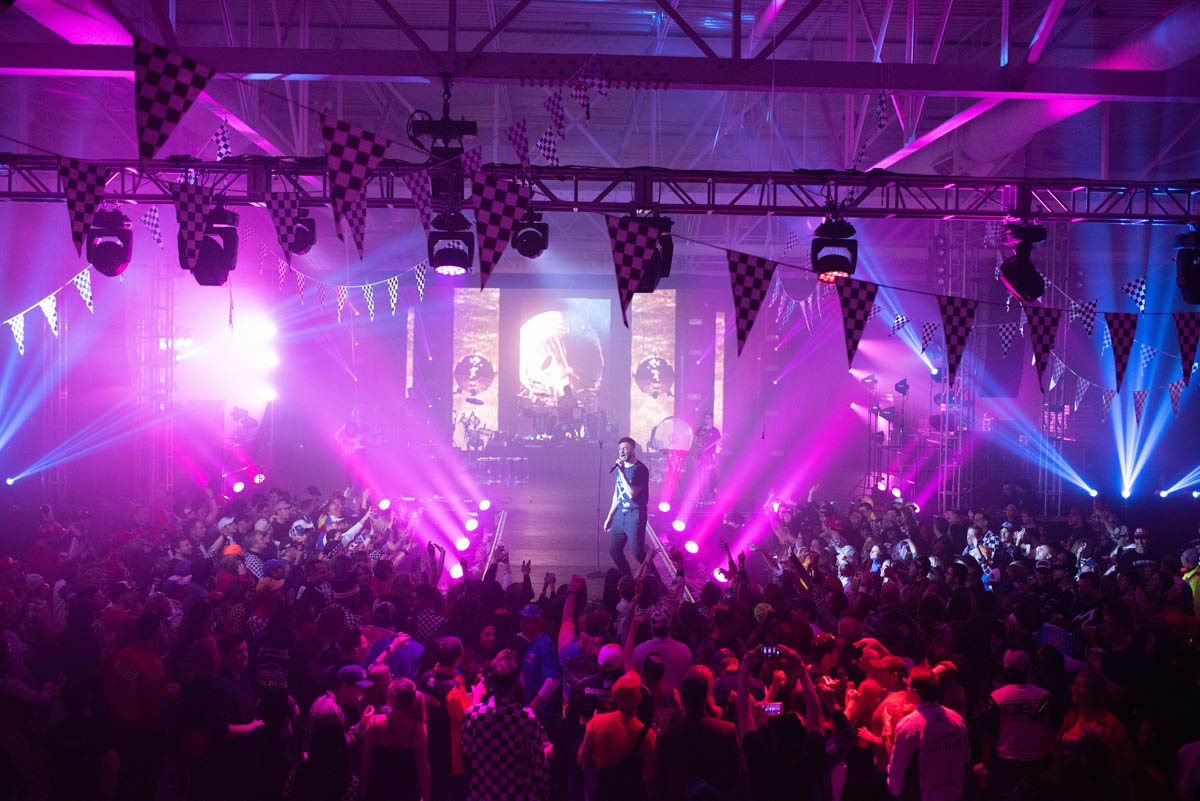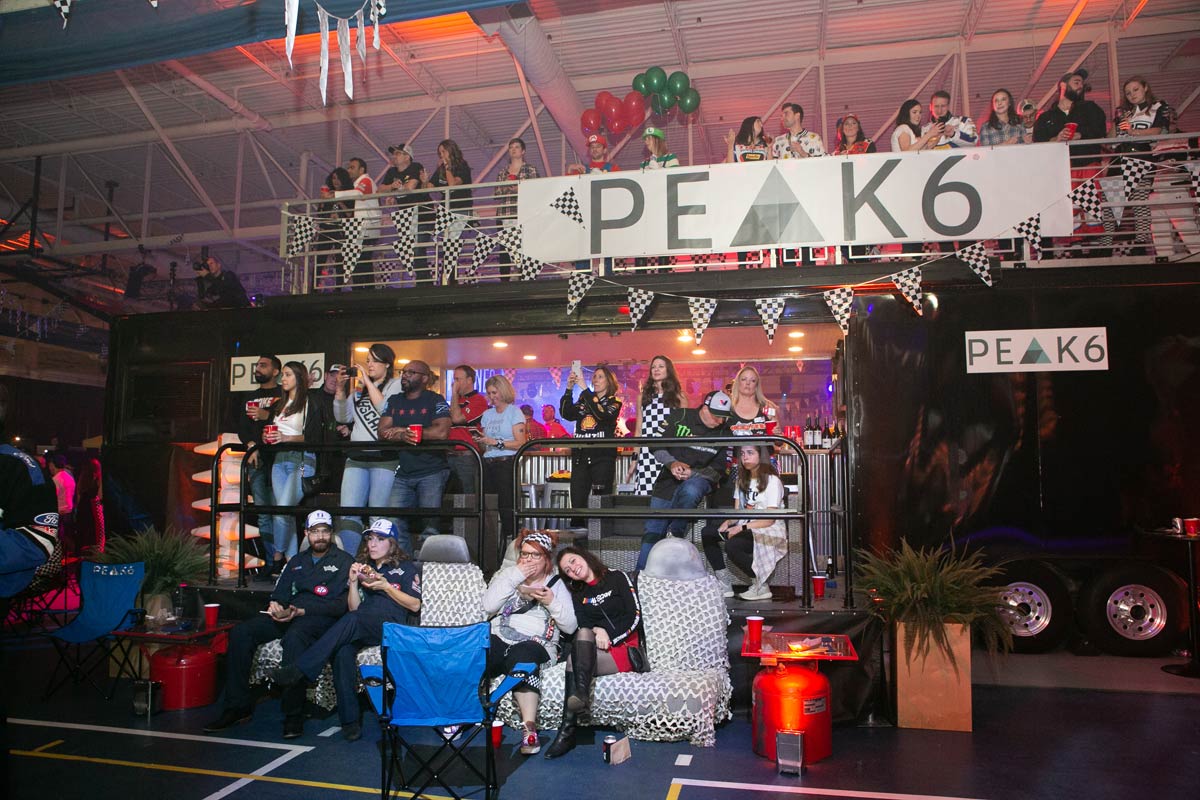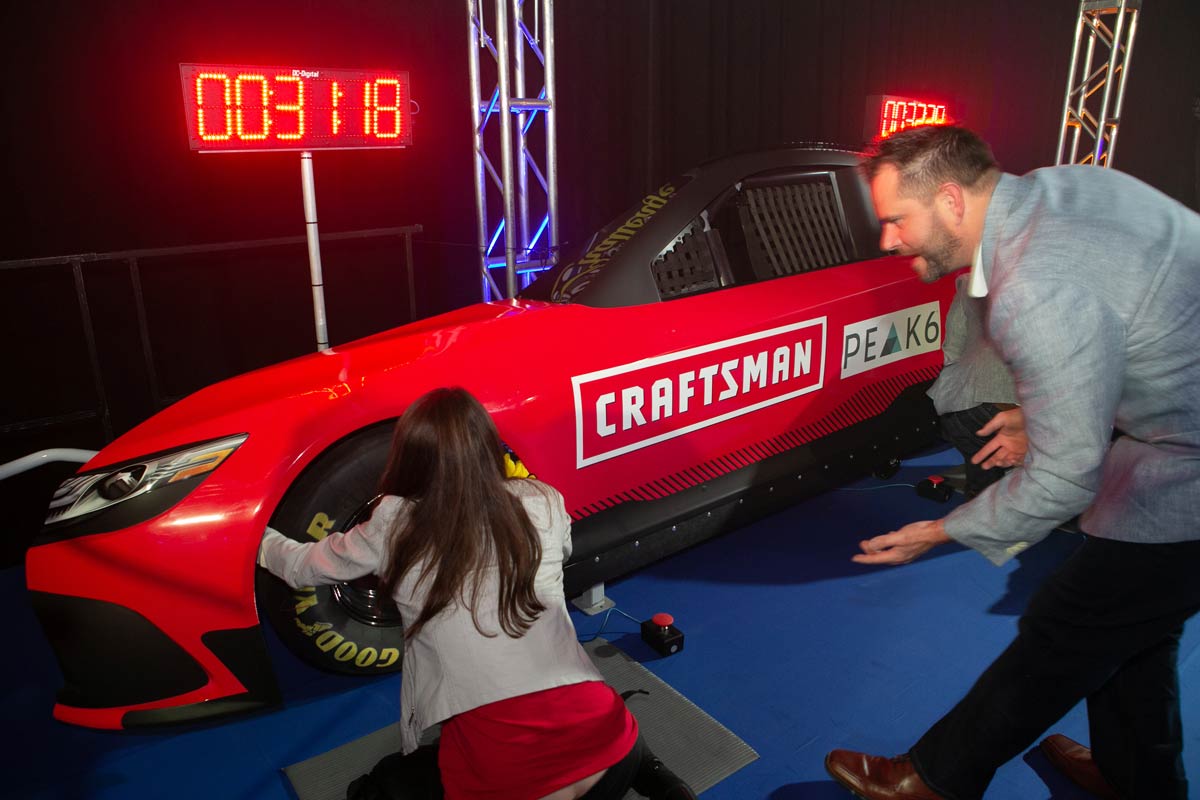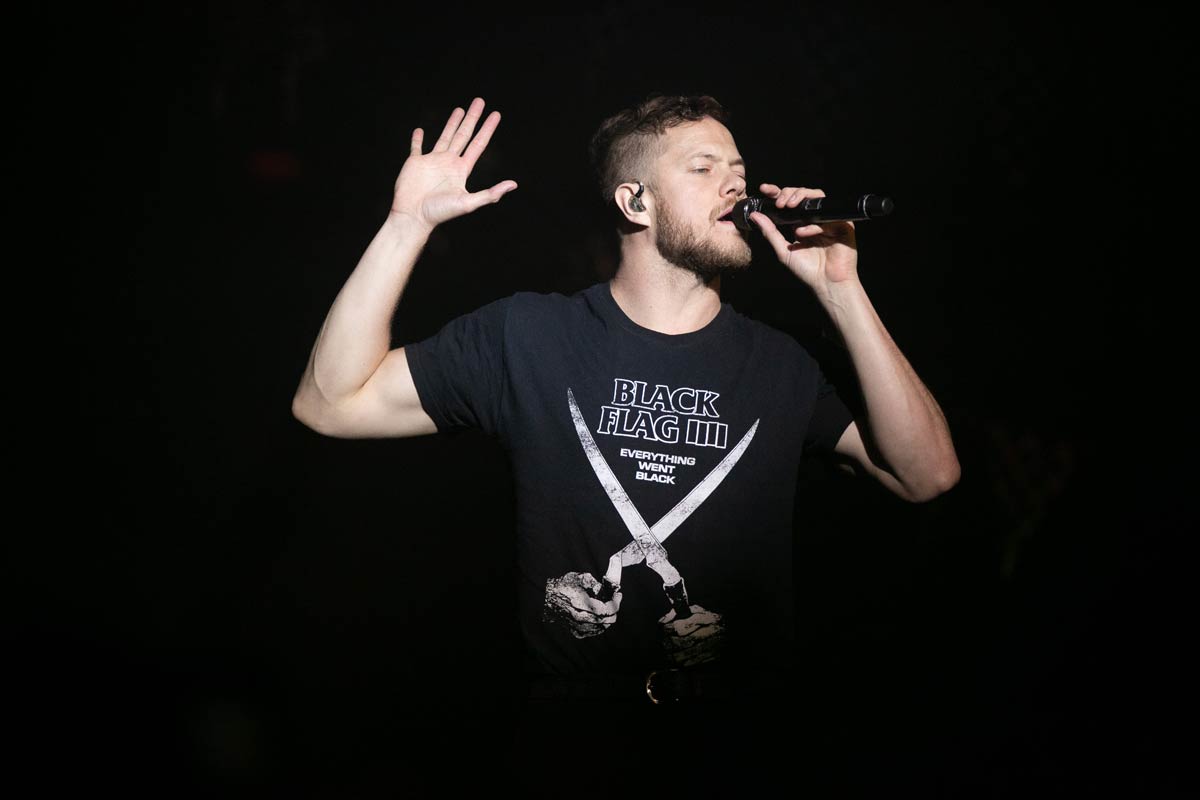 Watch Highlight Video Here:
PWE completely transformed the sport courts at the Windy City Fieldhouse into a NASCAR themed corporate anniversary event for 600 people. Grammy Award-Winning group, Imagine Dragons, delivered an unforgettable surprise performance, following an opening performance by Quinn XCII. Combined with the NASCAR décor by Kehoe Designs, authentic interactive activities by Topshelf Company and playful food stations from J&L Catering, this was a night to remember.
The guest entrance featured a two-sided, life-size Winner's Circle with oversized checkered racing flags, a 12' trophy and a custom branded NASCAR vehicle. This two-sided entrance provided guests with multiple options for their printed photo ops.
We called on our NASCAR friends from North Carolina to bring authenticity to this NASCAR event. Topshelf Company pulled in a double-decker, 53-foot custom-wrapped viewing pavilion trailer and a 20' double-decker party box. Both installations, which are typically used for corporate hospitality tailgating at NASCAR races, were equipped with full-service bars and provided an elevated vantage point for guests to view the party and watch the surprise performances from. They also supplied us with an authentic, North Carolina Moonshine for guests to sample.
This group is extremely competitive, so we created head-to-head NASCAR activities where guests competed in activations such as a "Pit Stop Challenge", "Wheelbarrow Races", "Slot Car Derby", "Giant Beer Pong" and "VR Racing Simulators."
There were NASCAR themed food stations, including a buffet on a rotating tire as well as some stations displayed under tailgate pop-up tents. The "Wing Man" buffet allowed guests to pick their own sauce for wings in a "Shake & Bake" style. Gordo's Ice Cream served a "do-it-yourself" style homemade ice cream bar where guests could choose the flavor they wanted, dipped their ice cream in a chocolate or vanilla shell & sprinkled fun, exotic toppings such as Cinnamon Toast Crunch cereal, Oreos and Fruity Pebbles. Food station signs were hung 20 feet in the air, which not only gave dimension to the party, but also made it visible for guests to spot their favorite stations.
Catering staff rode ride-on coolers packed with cans of PBR and Mike's Hard Lemonade to complete this tailgate experience. In addition, a remote-controlled ambulance also roamed the party carrying beverages for guests.
The highlight of the event was the Imagine Dragons performance on a custom stage with a thrust that provided an intimate experience for guests to interact with the artist up close. A massive LED video wall was the centerpiece of this stage displaying custom content throughout the party.
Collaborative Partners
Photographer: Sheri Whikto Photography
Decor: Kehoe Designs
Production: Kishbaugh + Partners and Sound Investment
Lighting: Kishbaugh + Partners and Sound Investment
Caterer: J&L Catering
Venue: Windy City Fieldhouse
NASCAR Activities: Topshelf Company